Northport's Mystery Painting

                            by

                  Jo-Ann Corretti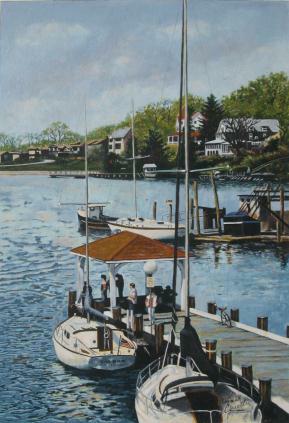 Almost 25 years ago at Crab Meadow Golf Course, my painting of Northport Dock was on display and one day  it went missing....I brought a sketch to the Northport Observer, asking if anyone knew anything about it, but it was gone for good....

Then one day in the fall of 2008, almost 25 years later I received an email from Daniel in Florida asking about a painting that he purchased from an estate sale....I opened the attachment and there is was....the forgotten missing painting....In shock over seeing my painting again, I called the Northport Observer and told them that after all this time, I know where the painting is....Naturally they wrote another story about this Mystery painting...then News 12 came to the house, other Long Island papers picked up the story and after awhile things died down again....A couple of months ago I received another email from Mike Forman of Northport that tells me that he purchased the painting from Daniel in Florida, and that it's now back in Northport, where it belongs, and would I like to see it again...I was so excited to see my long lost painting again...Mike lent me the painting so I could have prints made and I couldn't believe it, but when I took the painting from the frame in the backing I found a couple of long dark hairs from when my hair was dark, many years ago...This is just the most amazing story that has ever happened to me....Jo-Ann

           "Northport's Mystery Painting"

A Limited Edition Signed & Numbered Print with a Certificate of Authenticity certifying that this is the Print of the Northport Mystery Painting...                                Available now...

      You to can be part of the History of

      Northport's Mystery  with this unique  

  opportunity  to own your very own Collectors     Edition Print of Northport's Mystery Painting...    This is a Limited Edition Print, so order yours                          today  while they last....

    Call 631 786-3467 or send an email to

            Northport has it's very own Mystery....

The Missing Painting comes Home after all these Years....




















(C) copyright...All rights reserved by Jo-Ann Corretti

One of the Sail Boats at the Dock was named Cas Bah...If you were the owner of that boat, or you new who owned that boat, send me an email...I would like to hear from you....